How To Keep Flies Away From Your Meridian Home
May 30, 2022
When you find flies around your home in Meridian, it can be disheartening and overall concerning. Flies can be pesky, and they can ruin any situation with their presence. What's more is that different flies can contaminate your living space by landing on a surface, be it food or otherwise. You can't always depend on bug spray for flies as your solution when you see them around.
Different flies can respond differently, but you can take action before the situation gets out of hand. Keep your family and your home in Meridian safe by choosing the most effective solution. Don't let your home succumb to these tiny flies. Give us a call because we are the local Meridian pest control company you can depend on.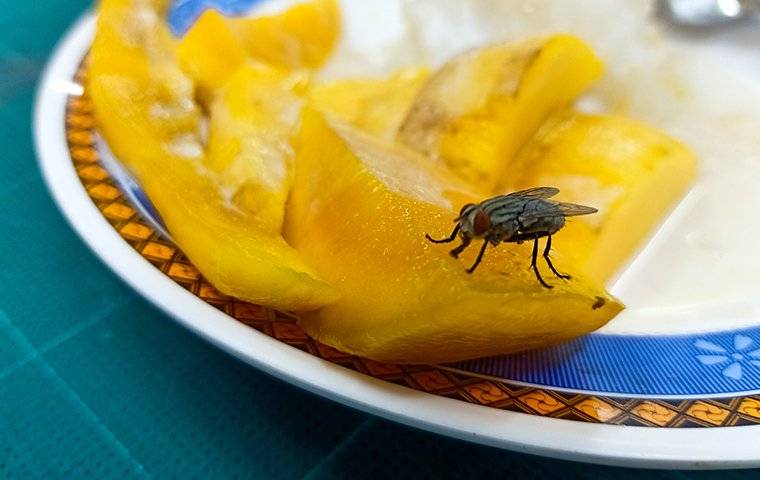 How To Identify A Fly Infestation In Your Home
Did you know that there are hundreds of thousands of different types of house flies around the world? When you only see one or two, you might think that it's all by chance, but it could mean that a bigger problem is underway. Look for these small yet telling signs:
Flies in a larval stage, such as maggots.
A small build-up of dark spots around windows.
Seeing an uptake in the number of flies around your home.
The signs might be small, but they can become obvious over time and grow exponentially. Don't be caught unprepared when you have an infestation on your hands.
How Flies Spread Pathogens About Your Home
Many common small black flies cannot bite you, but that doesn't make them any less dangerous. Flies are loaded with pathogens that can lead to disease and infections, and they can contaminate your home in the blink of an eye. Small flies do this by flying around your home and simply landing on things.
Different types of flies have contact with many terrible things such as feces, rotting food, garbage, vomit, etc. The critical thing to note is that when they land on your kitchen counter, they can bring everything they've ever landed on to your kitchen. This can lead to tainted food and surface areas in your home becoming infected. You need to stay vigilant when you find flies in your home so you can keep them from contaminating your entire house.
Naturally Effective Fly Prevention Tips For Your Home
No matter what types of house flies have invaded your home, you can take some steps to keep them from getting inside and amassing. You'll find that bug spray for flies can work, but it won't have long-term effects, and the chemicals can become harmful. Here are a few fly prevention steps you can take around your home:
Use sticky flypaper around your windows or patios.
Store your trash in sealed bags and store it properly to not attack a swarm.
Install a screen in your doors and windows to keep flies away while the doors are open.
Clean your counters thoroughly after you finish cooking or eating.
Keep your yard decluttered and free of pet waste.
By going through this list, you can ensure that you are taking action against an infestation. These preventative tips can help, but they will not be the most effective resolution to your fly problem. Small black flies can still find their way in, but you can get more concrete results when you reach out to a professional team.
The Secret To Total Fly Control
When you want the kind of protection you and your family can depend on, you should look into our services at Owyhee Environmental. Our team can handle all types of flies no matter where they have come from. At Owyhee Environmental, we strive to be a company that you can depend on, so you can trust that we have the experience you want.
We provide environmentally sound pest control options at affordable rates and will always provide high-quality service for every job we do. We even warranty our work, so you have a solid guarantee to back every service we carry out. Give us a call at Owyhee Environmental for a free quote and to learn more about our service options.
Previous
Next